Many traders import electronics from China to Pakistan on a large scale. Almost every electronic equipment we use is imported from China. China manufactures from low to high-quality electronic goods. It is up to you what quality you want. Electronics have a great profit margin, and it offers a wide range of products to choose from. You can either deal with one product, or you can buy and sell multiple products.
In this guide, I will tell you all about the electronics import and how you can import electronics from China to Pakistan.
Why import Electronics from China to Pakistan?
China offers a great variety of electronic equipment, and you can get these electronics wholesale rates from China. It is a great business idea to start a profitable business in Pakistan. You can build a successful import business by importing electronics from China and sell it in Pakistan with good profit. You just need to choose the right electronic product to sell, which benefits you.
You can find new and unique electronics products in China which attracts the consumers. All you will need is a good marketing strategy to promote the product and make money. Since there is a wide range of electronic product you will face less competition in the market. All you need is a good knowledge of the product and the market.
After analyzing the market, I have created a list of wholesale electronic products that you can import from China to Pakistan.
Headphones
Car electronics
Home audio, theater, and wireless speakers
Wearable technology like smart watches
Tablet and cell phones
Musical instruments
Home appliances
Networking equipment
If you have any other electronic product in mind, you can import that in Pakistan. Now you may have a question where you can find the supplier to import electronics from China to Pakistan. Don't worry, keep on reading, you will get the answer.
Where to find electronic products to import from China to Pakistan
There are some ways through which you can find suppliers to import electronics from China to Pakistan.
Find electronics suppliers through Import Data
Import data is the best source to find suppliers for your product without leaving your home. You can get all the information like importer name, exporter name, agent involved, duty and taxes, etc. You can get the import data and analyze it yourself to have a better understanding of the market flow, and you can search the suppliers mentioned and contact them for the import order. Import data does not show a phone number or email address, but it shows enough information to find the supplier. You have to know the HS code of the electronic product to buy the import data. There are two types of import data one is IGM (Import General Manifesto) data which has limited details and the other one is import data which have complete details.
Read this article to know all about the IGM data and Import data.
Find electronics suppliers online
You can also find electronic suppliers on different websites like Alibaba, Global sources, Made in China, and Aliexpress. But each website has a different type of suppliers. You can find manufacturers or product suppliers on Alibaba, every item you can think of is listed on Alibaba. You have to identify which supplier is providing a good quality product and which one is not. It can be a bit difficult to do that. If you find a good supplier with your desired or agreed price, you can buy the product in bulk.
Aliexpress is also a good source of finding suppliers, but you can order the products in small quantities. The quality of the product can be low or high because of the different manufacturers. On the other hand, the prices of the product here is high.
If you like to contact the manufacturer, then Global Source and Made in China is the best choice. When you find the manufacturer through these websites, you can even get them to design and customize the product according to your needs.
Visiting China to find a supplier for electronic products
Canton Fair and Hong Kong electronic fair provides a great opportunity for the traders to connect with the suppliers. Every year these fairs are organized to increase the business internationally. All you need to do is get the Visa of China and go there. You can get the vise of China with the help of the Chamber of Commerce for trade fairs. The trade fairs are organized on the specific dates, you cannot go to the fair whenever you want.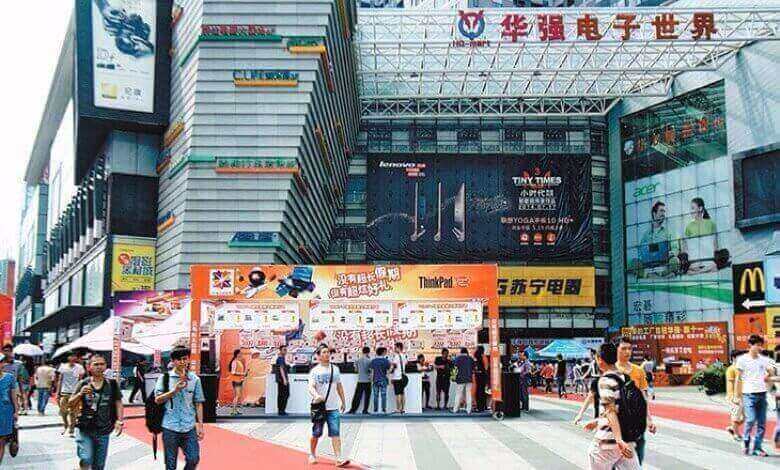 And if you are planning to go to China these are the places where you can find suppliers and wholesale dealers for electronic products. Shenzhen's electronics market and Yiwu wholesale market are the places you can visit to get a variety of products. Seg electronic market is in Shenzhen where you can find cheap electronic equipment in different varieties. There is another market in Shenzhen that offers a large variety of top-selling electronic products that is Huaqiangbei electronic market.
Yiwu Wholesale Market is a global market for international trade. Here you will find a wide range of products such as fashion accessories, toys, jewelry, bags, and electronics, etc. The wholesale market of Yiwu is not the main electronic market, but in the 3rd-floor district 2, you will find many in China manufactured electronic products. This market is a bit higher than Shenzhen because the suppliers here purchase the products from Shenzhen but this market is more stable and you will find the same supplier whenever you visit the market.
If you still find it difficult to do, you can hire a sourcing agent to find you a good supplier to import electronics from China to Pakistan. A sourcing agent will find you a potential supplier for your electronic product and negotiate a deal on your behalf.
Required Import Documents
To start the import business for electronic products, you will need the following import documents. Without the import export document, you won't be able to so the international trading business.
Business Registration
Current Bank Account with Company name
STRN Registration
WEBOC account is required to declare the goods to import in Pakistan.
Follow the guidelines to start the electronics import business from China to Pakistan. Make sure you get quality products to sell, it will give you a better customer response, and you will have more customers. And if you will be able to get the product with a warranty, it will be plus for you. I hope this article helps you import electronics from China to Pakistan.